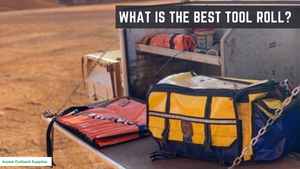 What is the best tool roll?
There are many different factors to consider when choosing a roll for you.
Tool rolls can have various sizes, are made from different materials and store all types of tools but what is the best style for your tool arsenal?
The first thing to consider is how many tools do you need to store? Even though you may not use your tools every time you go away, they are a very important part of your kit, especially if you are going remote. Finding the balance of taking enough but not too many can be an art. Having said all of that, if you can find the correct size rolls for your tools you will be able to take more tools away and be able to store them in tighter areas with less wastage of space.
what is the most durable material you say? There are only 2 real options to consider when choosing a tool roll, Rip stop Canvas or Rip Stop PVC. Both materials are heavy duty materials however adding the rip stop will give your tool roll an extra barrier of defence against heavy use of chafing in extreme cases, the rip stop is a cross hatched heavier duty thread used in the construction of the material that prevents the material from ripping if it gets a hole.
As for PVC vs Canvas, they both have their own pros,
Canvas is a great material for durability and wear whilst it also is breathable and can help protect your tools against rust.
*side note* canvas material above refers to good quality cotton/polyester canvas and does not include imported polyester canvas with a shiny back.
PVC is also very reliable and can take a beating being able to be cleaned and wiped easily from materials such as grease and other dirty fluids etc.
The most popular and universal rolls are spanner rolls, available in various sizes:
Small spanner tool rolls are great for your general purpose tools such as pliers, spanners, screwdrivers, etc.. AOS small spanner rolls are also great for Stubby spanner in ring open ender or even stumpy ratchet spanners
Medium spanner rolls are specifically designed for STD Spanner sets in metric or imperial for spanners starting at about 6mm or 1/4" up to about 30mm or 1-1/8" these medium spanner rolls also come in different colours to easily identify spanner or tool sets when these are rolled up and stored in your tool bag without unrolling them.
Large spanner rolls are designed specifically for Jumbo or large spanner sets from about 30mm or 1-1/8" up to and including 50mm and 2" spanners.
There are also other General Purpose Canvas and PVC tool rolls ranging from 2 pocket to 12 pocket rolls that roll up with a Velcro closure and are quite compact to be stored in your 4wd tool kit or your tool bag / tool box.
---