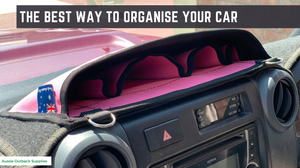 The best way to organise your car
Some of you may be asking How can I keep my car organised?
There are so many ways of maximising your storage in your 4x4 and your caravan but in this blog we will start at the front of the vehicle and explain the benefits of using our Dash organiser and the different applications that it can be used for from front to back of your car, Boat and Caravan.
What could I put in my dash organiser?
When it comes to dash organisers the options are almost endless, however they are restricted by size, we will start with a few suggestions from obvious to obscure. There are a lot of products that can be placed in dash organisers and removed often like personal belongings such as sunnies, phone, wallet, keys etc. Then we have objects that generally stay in there such as tyre pressure gauge, deck of cards, pens & pencils, lighter, hand held radio, cabling, small books & Maps, note pad, multi tool, torch.
One of the biggest questions we get asked is How do I declutter a dashboard?
 Let's start with the obvious, you are sitting in the driver's seat off the grid bouncing down a track, you have a few things that are always handy at arm's reach from you when you really need them, these are best stored with a dash organiser, some people use 2 dash organisers because lets face it no one wants to share their space with their partner, particularly on long trips.
Our AOS Australian Made dash organisers have a Velcro base that will attach to any carpet dash mat or if you are not running a carpet dash mat they come with adhesive Velcro that you can stick anywhere to secure your dash board organiser so it will not move when your off the beaten track.
When it comes to storing your personal belongings and securing them in your dash organiser, they are designed with 4 different sized pockets to suit a wide range of objects from small and skinny to wide and thicker, Our AOS dash organiser comes with a soft cotton foam padded lining on the inside roof of the hood to safely store any object with glass screens and sunglasses to keep them from scratching.
Equipped with 2 metal D rings having a couple of very handy purposes. Including clipping on keys or garage remotes for quick access, also running any cabling through such as for map displays or tyre pressure gauge displays etc.
Ok we have spoken about the most obvious use for a dashboard organiser but now we will explain a couple of other applications that most people don't even know are possible.
Dash organiser used in upright position throughout your car.
Anywhere you have carpet material on your vehicle our AOS dash organiser can be used as a vertical storage solution using the Velcro back such as your console or your gear box mound in the front of the vehicle and in the rear of the vehicle you could attached the dash organiser in an upright position to rear 4wd draws or the inside rear door of your car. Remembering if you don't have many carpet options that any smooth surface in your vehicle, you are able to use the Adhesive Velcro supplied to secure your dash organiser to.
if you have a cargo barrier or any other surface that you can clip to then a great idea is to use the D rings and carabiner clips to secure your dash organiser in an upright position for yet another storage option.
Our AOS Dash organisers are very universal, and they can be used for other applications such as Boat marine dash organiser in horizontal or vertical, Tractor Organiser, Heavy machinery organiser, and so on.
To view our full range of AOS Australian made 4wd accessories please click here
---