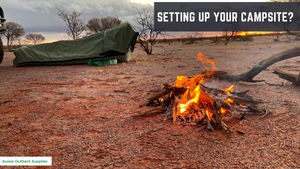 Setting Up Your Campsite!
Once you make it to a campsite, how you set up your site can sometimes make or break the camping trip. It's important to set up your campsite well, it serves as your home away from home while you are on your trip.
Find the flattest area available and keep water drainage in mind. A flat area can make meal prep a little easier and having your tent on flat ground is great for a sound night's sleep.
People normally prefer an area that is covered by trees because of the shade they provide and they also can block damaging winds and other weather. 
Shelter should always come first. Prioritise setting up your tent first and then the rest of your campsite. The AOS® Tracker Dome swag is perfect for any campsite, no matter how far away you are from civilisation. Suited to all Aussie climates and waterproof, you are guaranteed a decent night's sleep.
 Laying out a smart campsite isn't just practicality—it's maximising social time and your beautiful surroundings. It helps to plan a common area, anticipate the weather and orient your tent so you can take in the best views. Consider bringing along a portable shelter like a sunshade to make your common area more pleasant even in heat and rain. And a tent footprint or tarp can keep your belongings dry (from weather or just condensation). 
Keep your essentials handy. From headlamps to kitchenware, its good to know where what is while at your campsite. If you need them in a hurry, you'll want to know where to find them pronto. Establish fixed locations for important items like utensils, rainwear and insect repellent. The AOS Canvas 11 Pocket Overlanding Organiser and the AOS Aussie Made Canvas 4 Pocket Utensil Holder are perfect for hanging on the central gazebo or on a car in your campsite. These can really help when it comes time to cook and at the end of a long day.
Make sure around a campsite you stay tidy and keep rubbish to as much of a minimum as you can. This helps avoid bad smells and also pests and other animals that come to see what the good smells are. If in the unlikely scenario there are no communal bins available at your campsite, the AOS Spare Wheel Bin Bag is a good solution for situations where you may need to secure rubbish in a safe spot while camping.
Storage space can sometimes be at a premium while on a camping trip. Sometimes tents or cars can be an easy solution to store things such as food or other random items you don't really know what to do with. AOS has a great range of storage solutions that can easily weather whatever the Aussie outdoors can throw at it. You can keep them stored in the car or somewhere else in the campsite.
Camping is all about relaxing and enjoying what nature has to offer, but that doesn't mean you can't take steps to make the campsite nice and homey and there are many many ways to do that.
---