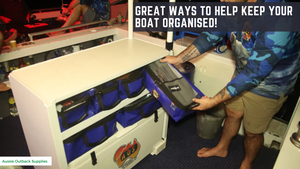 Great Ways To Help Keep your Boat Organised
With all the gear and equipment you need for a good time out on the water, a boat can become a cluttered, busy place. Whether it's charts and safety equipment or essentials for making your boat feel like a second home, your boat can quickly become a messy floating storage unit if it's not organised correctly.
Simple Boat Storage Ideas
Pockets Everywhere:
The AOS PVC wraps are made from 680GSM heavy-duty Rip stop PVC with a 50mm velcro touch tape closure for easy access to your beloved knives. These AOS wraps are perfect for your knife set and kitchen utensils and can even be used for miscellaneous tools, including spanners. These knife rolls are designed for maximum protection while still being very easy to use and durable; this wrap will last a lifetime.
The AOS dash Organiser can be used almost anywhere there is a flat surface on your boat. They come with 4 strips of adhesive touch tape to be able to hang, stick secure your Dash Organiser anywhere you need it, or if you prefer to hang it with some cable ties through the d rings, well, you can do that as well.
Waterproof Storage Bags:
The AOS storage bags Drawer Bags are already made in various sizes to fit most boats' drawer sizes. The AOS drawer bags have been designed with a heavy-duty rigid canvas to keep some solid shape in your bag to prevent it from flopping over when empty. We have a double easy slide key lock zip for those situations when security is vital. They are also manufactured with a grab handle on either side. Our smaller bags also have a removable adjustable divider for easy separation.
The AOS PVC Kit Bag was initially designed for the back of a ute to withstand rain showers when on the go. It has a weather flap over the top and double zips. Most bags have a weak point where the handles are sewn onto the bag, and they can tear when pulled horizontally, but with our horizontal webbing design, this weak point becomes one of the strongest points of the bag! This versatile bag has been used as a boat bag or a marine bag where you are always going to get a light spray of water and is also used for storing such things as free diving fins. 
Items You Don't Know Where To Put
The AOS Drop net backpacks are a great solution to store your drop nets on board and even carry them while you're on foot. The Marine drop net bag has been designed and constructed in Australia from heavy-duty ripstop PVC material. The bag has a zipper and double lockable sliders around the whole bag, opening out all the way to easily fit your drop nets. There is a 3/4 pocket on the front of the bag to store your gauges and accessories for your trip. When this bag is not used as a backpack, it has a grab handle on the top of the bag.
Never forget that space is limited on a boat of any size. Be thoughtful about what you need to have onboard, and prioritise the most necessary items you'll need daily or in case of an emergency. 
---