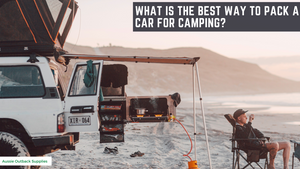 What is the best way to pack a car for camping?
Being organised for camping trips will make your life so much more straightforward. It saves a lot of time in the end. Using the right products will save you even more time!
Put together a packing plan for your camping gear and stick to it. This goes for other bags and containers as well.
Collect everything together before packing the car (unless you know exactly where everything goes) and make sure you don't forget anything. It's much harder to add things that go in the back of the vehicle once you have started loading, and loading items out of order can result in dead space.
One key and easy way to do this is by organising essential camping items, especially any perishable food. Most campers like to store critical items in large plastic tubs with strong, well-fitting, clear lids.  
If you buy a big container because you think you have lots of food to place in it, that is fine, but can you get it into the car when full and then get it out of the car? 
Thats why the AOS Clear Top Drawer Bags have become so popular. They are the perfect for for most storage spaces and their clear tops make it easy to see where you stored what later on in the trip.
Make the best use of the available space. Your car has numerous compartments to store your gear, from the drink holders to the ample rear cargo space. As well as that, car roof racks and tow/hitch bars are great accessories to help you transport your gear. Decide what will go where to make the best use of the available space.
Even with all your tub placing, there will be holes between the gear, which is great. You fill these spaces with all the other non-tub items. It might be a sleeping bag, a kettle, hiking boots, or any bits of camping gear that don't have a tub of their own. With items such as the Canvas Rear Seat Storage and the Dashboard Organiser, you can also store all those small things that don't really have a home anywhere else in the car and transform dead spaces in your vehicle into the perfect storage spaces.
Transport multiple small items together in large canvas or similar bags rather than throughout your vehicle. These bags help secure and contain your individual items together to lower the number of potential missiles that could injure others in the event of a sudden stop. They will also:
– Reduce the number of individual items you need to load
– Help to organise and transport your gear around the campsite
– Help protect your gear from the elements when being moved around
– Reduce the number of items you will need to unload. This is if you need to access the spare tyre via the boot/trunk
– Be useful for gear storage at home
The AOS Canvas 4 Pocket Utensil Roll is the perfect item to pack your cooking and eating essentials and store them on the trip and at the campsite.
With the AOS Spare Wheel Bin Bag you can even turn your spare tire into a storage space to store spare items or even keep rubbish from being stored in the car, smelling it up.
Make sure that the driver can still see out of the windows. Get them to sit in the driver's seat and check that they have complete visibility.
Take a few photos of your car boot/trunk in stages as you pack so you can easily repack your vehicle for the journey home.
---