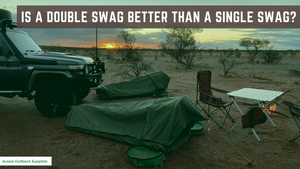 Is a Double Swag better than a Single Swag?
Are you sitting on the fence whether or not to get a double swag or a single swag? Well you have come to the right place. We will run through the benefits of each so you can find the perfect fit for you.
The different swag sizes
Swags come in 4 distinct sizes:
Single Swag
Single swags are more suited to younger demographic such as children or if you are pushed for room such as on a boat. Don't underestimate these swags as a full adult will have no problems sleeping in a single swag.
Mattress size of 71cm x 200cm
King Single Swag
King single swags are by far the most popular size on the market and are more than suitable for your STD adult while not taking up too much precious space when going on a trip.
Mattress size of 85cm x 214cm
Double Swag
Double Swags as the name suggests are more suited for couples or anyone that likes more space when they are camping.
Mattress size of 116cm x 214cm
Queen Swag
Queen swags, when luxury is what you are chasing these have plenty of space coming in at a whopping 1500mm wide by 2140mm long. Buyer beware, these swags do take up a lot of space when set up and packed in your car.
Mattress size of 150cm x 214cm
The AOS BUSHMAN DELUXE APEX SWAG comes in all 4 sizes
Types of swags
Different types of swags? When it comes to swags there are 2 types of swags, dome style swags and more basic flat or Apex style swags.
What is a dome swag? As the name suggests a dome swag will be set up in a dome shape, most commonly with a set of hoops that are attached or inserted at each end of the swag. The main purpose of a dome swag is to keep the material from touching the person and create more space inside your swag.
What is a Flat or Apex style swag? Generally these style swags are a more basic standard type swag and will have an eyelet or an attachment point at each end of the swag to secure a guy rope and tie these to an anchor point to tension the swag and create an apex to form a "mini tent" another option for these swags is to be used without the rope system creating what is known as the traditional Flat style swag
Mattress type
What is the most comfortable swag mattress?
70mm foam is the most common mattress thickness used in swags on the market today. Don't think that all 70mm mattresses are the same, there is a huge difference between foam densities, and this is the main factor in how comfortable your night's sleep will be while camping.
Imported foam will generally not be as comfortable or last as long as an Australian made foam, a good quality Australian made foam mattress with a removable mattress cover will cost anywhere from $125 to $199.
How to test a swag mattress?  Although most companies claim they are using high density foam, The best way to test a foam mattress is to place an open hand in the centre of the mattress and push downwards, a good quality foam mattress will not be as easy to push as a basic cheap mattress.
Canvas material
What material are swags made from?
When it comes to the canvas material used in swag manufacture the 2 standard units of measurements are Oz (oz/sq2) and GSM (grams per square meter).
14Oz (475 GSM) has been traditionally used in swag manufacture for many decades in Australia and is still the go to Heavy duty canvas material of choice for a high quality swag.
Different types of canvas can include cotton canvas, poly cotton and polyester material. As usual there are pros and cons for each type of canvas material.
Cotton canvas breathes exceptionally well but has a large amount of shrinkage, in excess of 10%.
Poly cotton canvas, easily the best option as you have polyester woven in for strength and cotton to still give you breathability, this is the best of both worlds. Shrinkage of less than 3%.
Polyester material is incredibly waterproof but does not breath, you will get wet from the condensation on the inside of your swag, this material is not recommended to be used in swags.
What to look for when buying a swag?
When buying an Australian manufactured swag you are supporting local business and supporting Australian jobs in our community, generally Australian made products are a higher quality standard to imported products.
View this article by Outback Explorer on Australian Made Swags
Most swags will have the minimum warranty requirement of 1 year, however some Australian made swags will have up to 10 year warranty. We believe the length of the warranty reflects the quality of the product.
Generally the heavier the canvas material is , the longer it will last and more durable it will be.
We have discussed more details in the rest of the blog.
Look for an Australian made 70mm true high density foam when buying your swag.
Quick release buckles and straps
The most common options of buckles are plastic buckles or metal buckles, the benefits of having metal buckles are that they are more heavy duty and they do not break or perish over time, they are a lot more reliable when you are packing up your swag in the bush, straps can come in 25mm or 50mm generally, with 50mm being the preferred option these days ensuring you can suit a larger 50mm buckle.
Zip and sliders can range in width commonly from 5mm to 10mm, because of the nature of a swag and where they are used, all swags should use #10 (10mm) zips and slider. all sliders should be made from metal material for heavy duty use.
---